2022 – 2023 Achievements
April 2023
MHHP continues partnering with Shriners Hospitals for Children and we continue building dedicated music rooms/studios at Shriners Hospitals for Children throughout the U.S., Mexico and Canada. MHHP has provided musical instruments and facilitated deliveries to 17 of our 23 Shriners Hospitals Partners.
This has been made possible through our partnerships with: Gibson Gives – Dendy Jarrett, KRK Kares, Epiphone Guitars, Kramer guitars, Maestro effects, REMO percussion – Robert Shen, Dr. Ami Belli, Zildjian cymbals – Cady Zildjian and more.
Instruments donated by Music Has Healing Power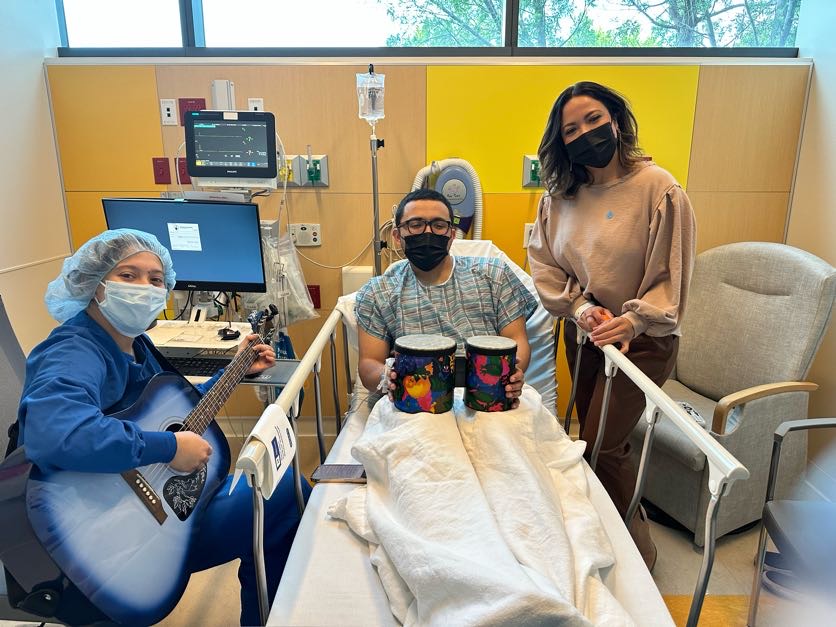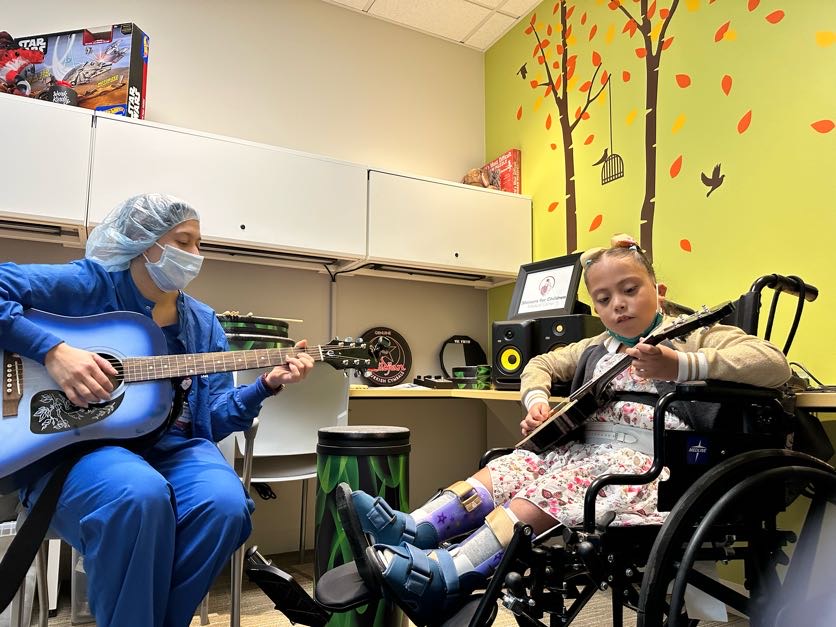 After surgery, Shriners Hospital for Children's patient visit's the MHHP / Shriner music room with the MHHP / Shriners music therapist Sarah. This patient has frequented the music room. Bruce Lowe, MHHP CEO/Director states, "Patients are often scared, nervous, worried being at the hospital for Dr. appointments, surgeries, follow ups appointments, and more. They are offered time in the MHHP music studios at the hospitals for the purpose of calming, healing, relief from their worries, stress, pain or much more. Witnessing the patients and their families who are going through medical struggles and come into our music rooms brings me to my knees when the music starts. Like clockwork, the patients smile, calm down and start singing or playing the instruments. The difference this makes in their lives is so heartwarming and priceless. Music truly does have healing powers."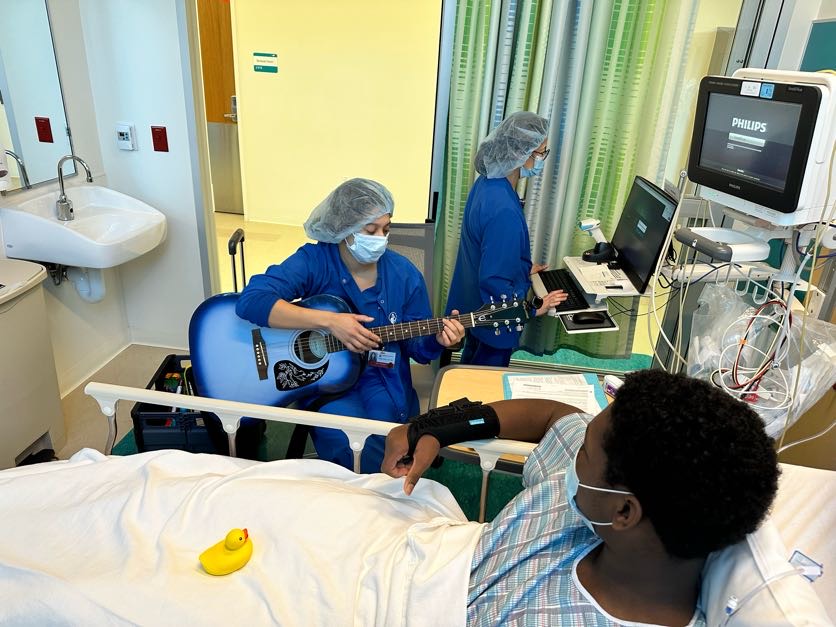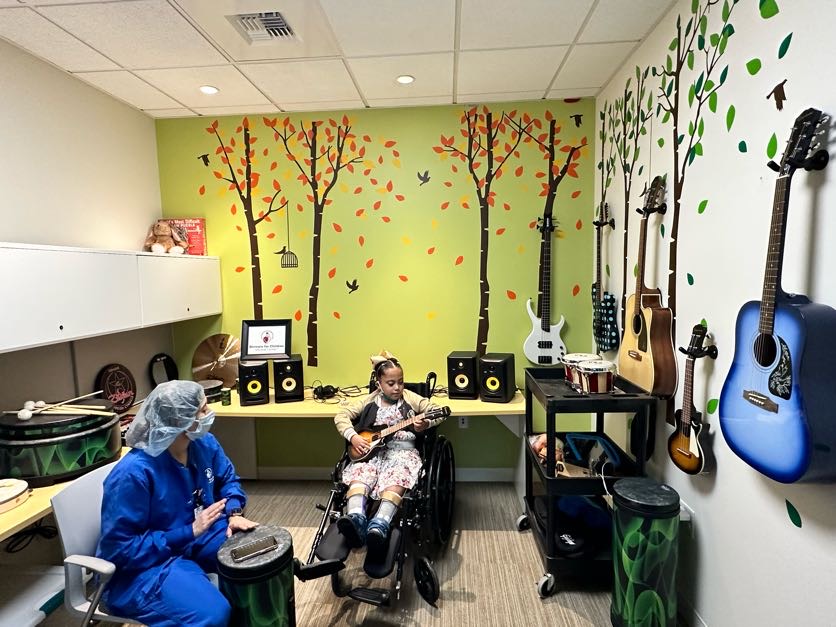 A powerful story told by the head RN in the surgical department at Shriners:
"A patient was all prepped for a surgical procedure and became hysterical as she was so worried about the surgery she was about to receive. The Doctors and Nurses did all they could to calm this young patient down, but nothing worked. They decided to call to see if the MHHP/Shriners music therapist was in the hospital. Our music therapist was there and went to the surgery department to work with the patient to try to calm her down. Once again, the music, love and compassion worked like clockwork. The patient did calm down and was taken to a successful surgery."
Music, compassion and love certainly do bring wondrous success stories.
The folks at Music Has Healing Power are full of gratitude for our fantastic partners who help make this mission possible. Gibson Brands, Remo percussion, Kramer guitars, Epiphone guitars, KRK studio monitors and headphones, Maestro effect pedals, Zildjian cymbals and the gracious donations from all of our supportive individuals.
Stories Behind the Songs
Shriners Children's – Southern California
Stories Behind the Songs @ Shriners Children's – Southern California – 7pm – 9pm pdt
This special "Stories Behind the Music" event is for the Shriners / Music Has Healing Power HEART program in Pasadena CA.
Stories Behind the Songs is a live acoustic performance that will feature rare behind-the-scenes stories as the musicians, songwriters, and producers recount their work with Sir Paul McCartney, Tom Petty, Stevie Wonder, Steve Windwood, Sir Elton John, George Harrison, Quincy Jones, Madonna, Britney Spears, Kenny Loggins, Jackson Brown, Danny Elfman, Ringo Starr, Eric Clapton, Prince, and bands like Electric Light Orchestra, Badfinger, and Crosby, Stills, & Nash (just to drop a few big names)!
All proceeds benefit the Shriners Children's Southern California/Music Has Healing Power's HEART (Healing Environments, Arts, Resources & Therapies) Program.
Event Attire:
It's a rock concert! Wear your favorite band, concert, or recording artist's t-shirt. Jeans are recommended — the more holes and patches, the better!
Tickets can be purchased here:
https://donate.lovetotherescue.org/event/stories-behind-the-songs/e435687
Our achievements and endeavors are made possible by your kind support. We hope you will consider supporting Music Has Healing Power, a 501(c)(3) organization. https://www.musichashealingpower.org/donate
Shriners Children's Music Rooms
June 15th, 2022

We are excited to announce that we officially have two new dedicated MHHP music rooms at Shriners Children – Southern California! We have provided instruments for both rooms and are absolutely thrilled to be partnering with Shriners on this amazing accomplishment.

One room has been completed and is ready to be used, while the second and main music room/studio starts construction right away and will be completed in 2022. In these moments of progress, it is always the most rewarding to think of the children that will reap the benefits, experiencing joy and the wonderful healing power of music.

Our achievements and endeavors are made possible by your kind support. We hope you will consider supporting Music Has Healing Power, a 501(c)(3) organization.
Music Has Healing Power Donations
June 10th, 2022

During 2021 and 2022, Music Has Healing Power has provided music instruments including guitars, percussion instruments and more to 15 additional Shriners Hospitals for Children music rooms. 13 Shriners in the US and 2 Shriners in Mexico.
Our achievements and endeavors are made possible by your kind support. We hope you will consider supporting Music Has Healing Power, a 501(c)(3) organization. https://www.musichashealingpower.org/donate
Pics:
1 – Chicago Shriners 2 – Mexico City Shriners 3 – Mexico City Shriners 4 – So. California Shriners 5 – Bruce Lowe, Founder of MHHP
Instruments donated by Music Has Healing Power